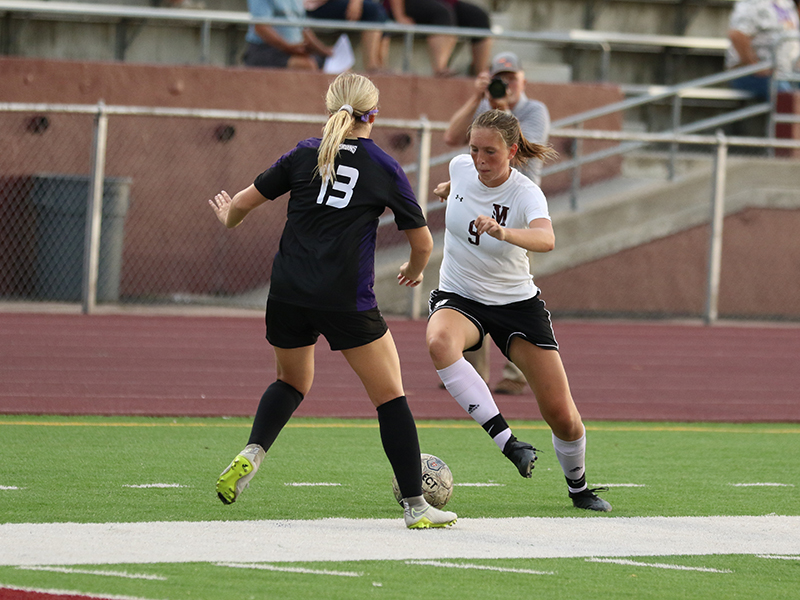 Vorige week publiceerde Morningside University een leuk interview met Merel Kooij op haar site. Merel gaat nu aan haar vierde jaar beginnen als studente, voetbalster en tennister. In het interview vertelt zij over haar overgang vanuit Nederland naar het grote onbekende, haar ervaringen als voetbalster en tennister en haar studie. Ook de periode van haar blessure komt aan de orde, deze ligt nu gelukkig achter haar en Merel zegt erg uit te kijken naar senior jaar en het nieuwe seizoen.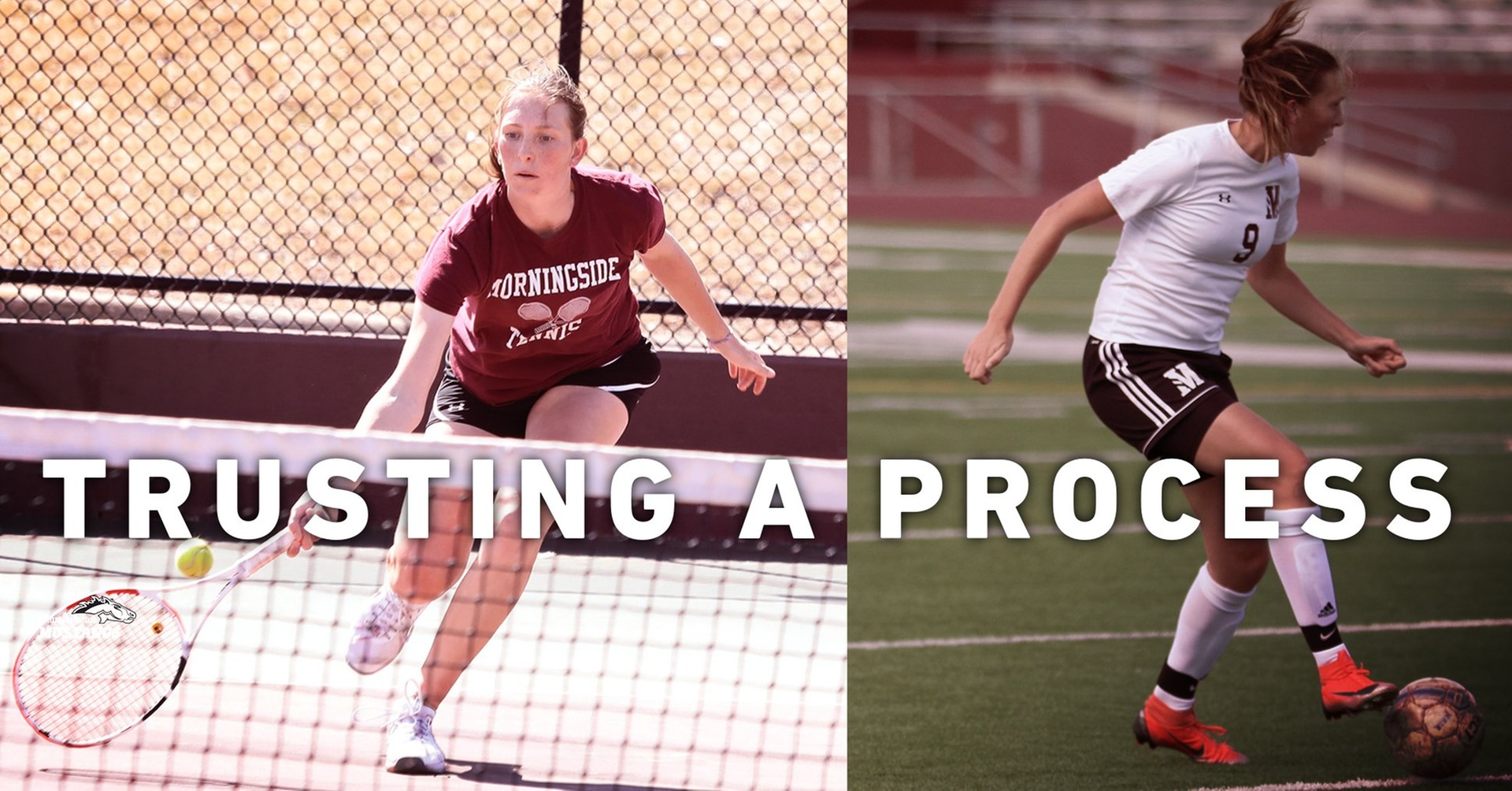 Bron: https://www.msidemustangs.com
Posted: Aug 08, 2022
Senior two-sport athlete finds home away from home
Nearly half a world away, Merel Kooij took a trusting step to a collegiate experience and more.
Competing on a club soccer squad in her home in the Netherlands while wrapping up her high school career, she had decided to combine further study and her favorite sport in the United States.
"There's an agency that assists international student-athletes," she reflected about her journey to northwest Iowa. "I made a recruitment video, and several coaches took a look at it. (Morningside University head) Coach (Tom) Maxon was one of them. He reached out and spoke with myself and my family."
As a campus visit from northwest Holland to northwest Iowa would have been challenging at best, Kooij checked over the university web site and read up on as much information as she could.
Sight unseen, she decided that Morningside was the best fit for her.
"I really liked Coach Maxon and everything I had seen," Kooij noted. "Honestly, not being able to visit beforehand made it more exciting. It became like a little adventure moving somewhere where I had no image or context of what it was like."
Forty-two matches played which includes two seasons of 10-or-more pitch appearances, being able to participate in her second favorite sport of tennis and a biology and chemistry major have turned campus and the surrounding area into her second home.
"Being here is valuable because the environment is so safe and protected," Kooij admitted. "While I know it's not like this everywhere in the US, it has allowed me somewhat of an idea of what it can be like being away from family and being independent in my career."
"Those examples to me are making great friends and staying closely connected with teammates and with life in the dorms," she added. "The balance between practice and study while growing personally has been very unique which I can see continuing when college is over, as I want to pursue research in biology which will require similar skills."
As many college student-athletes can attest to, lifes lessons can occur at any time. After producing a first year that saw her post four goals and dish out five assists on the pitch, an early-season injury during her sophomore slate shelved her for the remainder of the season and a large portion of her junior year.
"It was a difficult experience, as it took more time than expected to get back in action," she pointed out. "I wasn't able to walk for three to four months. I had underestimated the impact thinking I could come back quicker. I didn't feel very connected to the sport."
"However, as I worked with the athletic training staff last year, I felt I was taking the right way back," she added. "I managed to play more, and honestly, I felt less of the pressure on my ankle which allowed my fear to go away and my confidence to come back."
Now, moving into her senior season, the sky is quite possibly the limit. The all-Great Plains Athletic Conference honoree in soccer and tennis looks forward to 2022-23 and beyond.
"I've got the opportunity to try so many different things and meet new people here and beyond," Kooij said. "It's a whole new perspective with a lot of different options which allows for an unlimited future."
Continuing her adventure no matter what lies ahead.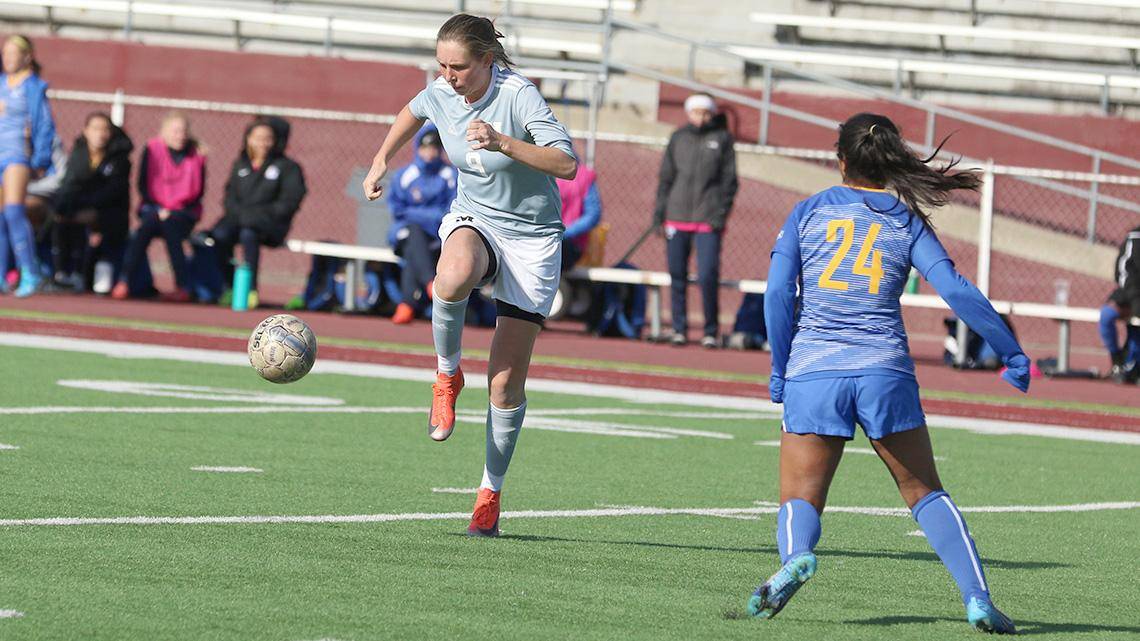 Foto: Merel in actie voor de Mustangs.
Global Sport and Study wenst Merel natuurlijk heel veel plezier en succes toe in haar laatste jaar op Morningside University, en wij zullen haar zeker blijven volgen.