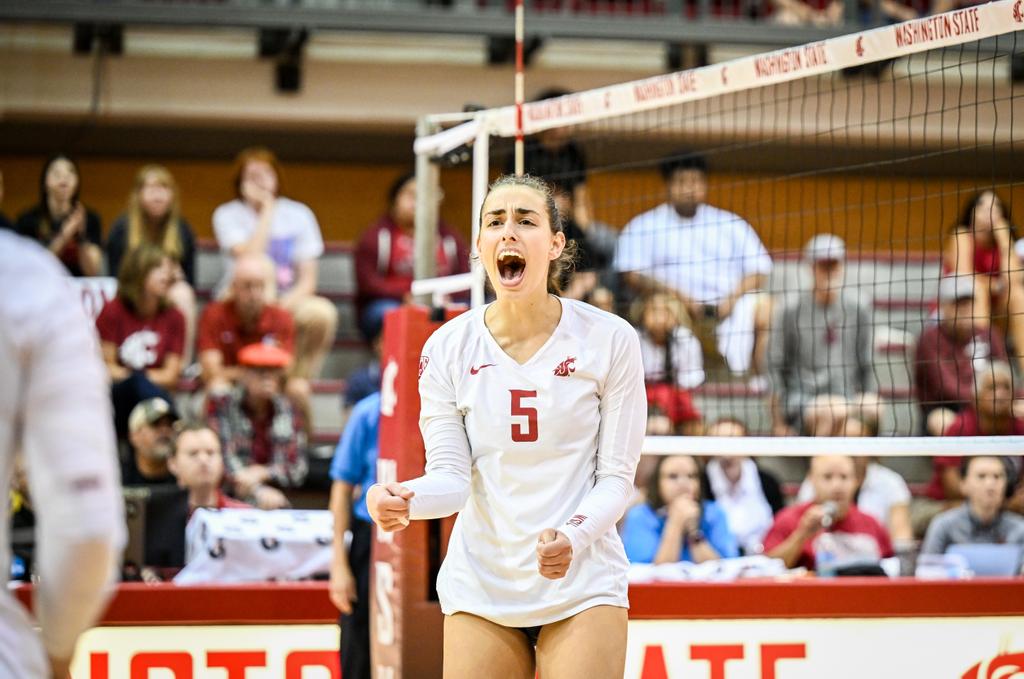 Laura Jansen heeft haar eerste award van het seizoen binnen! Voor het  team van Washington State University was zij van grote waarde tijdens het Cougar Challenge Tournament. Het team van de Cougs wisten de 3 wedstrijden in overwinningen om te zetten. Donderdag werd met 3-0 gewonnen van California Baptist University, gevolgd door een tweetal zeges op de teams van Belmont University (3-1) en CSU Bakersfield (3-1).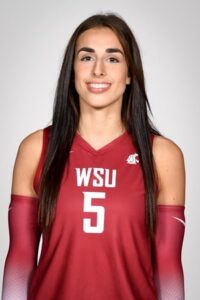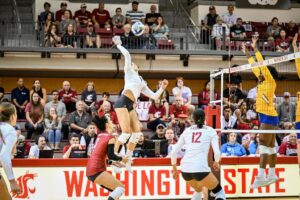 Foto's: Laura in actie in de wedstrijd tegen  CSU Bakersfield. 
Dat Laura haar draai meteen gevonden heeft in het team van coach Jen Greeny mag duidelijk zijn als we de statistieken erbij halen.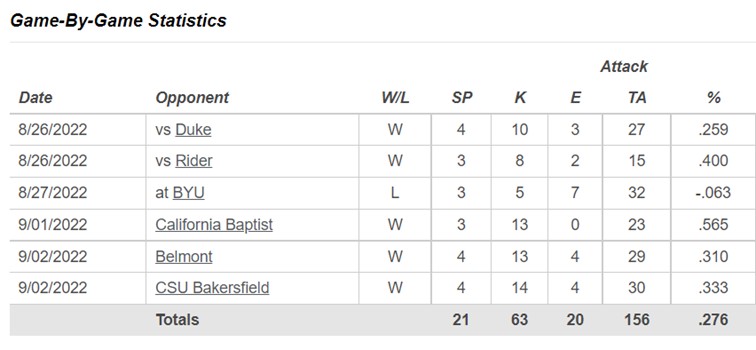 Statistieken Laura, 63 Kills in 6 wedstrijden.
Hieronder het bericht zoals dat geplaatst is op de website van Washington State University.
Bron: https://wsucougars.com/
Laura Jansen led the Cougs in kills for a third-straight match with 14 and was named the Cougar Challenge Tournament Most Valuable Player as Washington State volleyball (5-1) defeated CSU Bakersfield (1-4), 3-1 (25-19, 25-13, 21-25, 25-15), on Friday night in Bohler Gym.
"Laura Jansen has been amazing at making adjustments," said Associate Head Coach Burdette Greeny.  "We've worked on giving her some assignments, spots on the court to hit balls, and she went out and executed."
Katy Ryan finished with 10 kills and was also named to the Cougar Challenge all-tournament team along with Jansen.  Jasmine Martin (9-3-14, .429), Magda Jehlarova (9-1-21, .381) and Pia Timmer (9-2-27, .259) each finished with nine kills and libero Karly Basham had a team-high 14 digs to go along with a pair of service aces.
"I think our attacking was really good (this weekend).  I think we've been really pleased with our offense to this point" said Greeny.
Washington State took control of the match with a collective .357 hitting in the opening set.  In front of the largest crowd of the weekend in Bohler Gym, WSU took control of the set with a 5-1 run to go up 16-13.  The Cougs led by three when they went on a 5-0 run to push their advantage to 23-16, eventually winning the first, 25-19.
WSU carried its momentum into the second set in which it went on a 7-2 run to start. Jansen, Ryan and Jehlarova each had three kills in the set and the Cougs tallied three blocks as a team.  WSU led the second set from start to finish and closed the second on a 9-1 run to win, 25-13.
After giving up a late run in a tight third set, WSU had only two errors in a fourth set in which it hit .560 as a team (16-2-25).  Jansen and Timmer each had four kills in the final set and the Cougs again led start to finish in a decisive 25-15 fourth.
Washington State will be back on the road next weekend as it heads to the Fairfield Invitational on Fri.-Sat., Sept. 9-10.